Elisabeth Rohm was born April 28, 1973 in Dusseldorf, Germany to German lawyer, Everhard Rohm and American mother, Lisa Loverde, a writer (they divorced when she was 8.) Elisabeth attended Saint Andrew's - Sewanee school in Tennessee. "I really wanted to go to boarding school." she says. "I read A Separate Peace, and The Cather in the Rye, and I had this fantasy of what it would be like." As a child she had dreams of becoming a competitive equestrian. "From 5 to 11, I was training seriously. I had no life." Rohm began acting during her freshman year at Sarah Lawrence College.
Elisabeth describes herself as ever evolving. " I'm not a girly girl. I don't like to paint my nails. I don't want to be wooed. I ride horses and I'm strong. I've always related to a lot of male characteristics, but now as I get older, I realize I'm also a woman and I want to be completely pampered and treated as a princess."
After Graduation, she worked briefly as an agent's assistant before landing a role on One Life to Live. Her recurring part on Angel lead her to a full-time job on TNT's drama, Bull, playing Alison Jeffers, one of six young investment bankers who leave an established firm to start their own. About preparing for her role on BULL Elisabeth said "I went to the trading floor at Merril and the anxiety was surreal. I was shaking and wanted a drink. I saw somebody lose $9 million. He knew it was just a shitty day-what goes down, must come up. There was this sense of cool, but utter terror."
One of Elisabeth's great passions is horse rideing. When asked about the sexual aspect of horse riding. Elisabeth told FHM: " Even the clothes are suggestive. Once I was wearing jeans and chaps from riding, and I showed up to work, and George Newbern, who's a friend and my co-star, was like. "Good God, you might as well just put arrows saying, 'Right here!' because the opening are on your crotch and butt."
Elisabeth Currently resides in Los Angeles where she spends as much time as possible with the love of her life, her nine year-old Thoroughbred named Flash. Elisabeth has also branched out to writing, she recently competed a novel and is seeking publication, and looking into the possibility of producing and starring a film version of her text. Elisabeth joined the cast of the long-running NBC drama Law and Order in 2001.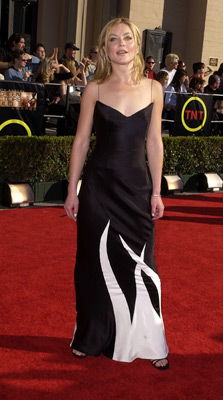 Trivia
Studied writing and European history at Sarah Lawrence College, Bronxville, NY.
While born in Germany, her parents moved back to New York City before she turned 1 year old.
Her father, Eberhard, was a German corporate attorney. Her mother, Lisa, once wrote for the soap, "The Guiding Light". The two divorced when Elisabeth was 8 or 9.
Elisabeth wrote an unpublished novel about a 21 year old woman in 1911 Scotland whose husband committed suicide.